Due to the governmental decision in France, we will not be able to send your order for now. We will do it as soon as possible.
We apologize for any inconvenience.

Learn from the 1st French Fashion School
Fashion Design, Pattern Drafting, Fashion Drawing and Dress Forms
Pattern drafting
Fashion design
Sketch
Business
Fashion History
Dress forms and fashion accessories
---
News media
---
New
---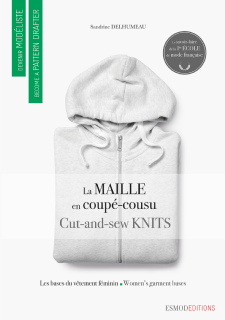 Making patterns and 17 explained models, finishing and constructions for your t-shirts, sweaters, skirts, jackets, and trousers in knit fabrics.
Entirely made in France! Fiberglass form and foams is covered with ecru muslin. Metalic shaft on a cast iron tripod. A magnet designed to facilitate the pattern drafter's work was placed on the mannequin's head !
---
The 1st French Fashion School!
We invite you to discover the reference flat pattern drafting method published by the most prestigious french fashion school since 1841. Our method is basic, intuitive, accurate and illustrated, teaching you the key elements for manufacturing tailor-made clothes.
We provide methods for designing, drawing and manufacturing your own garments easily throughout pattern drafting, fashion design, drawing and marketing reference books in both french and english.
These textbooks are teaching supports for our student's network in 20 schools around the world but also accessible to professional and beginner pattern drafters, fashion professionnals and people who love to sew.
ESMOD Editions also provides male and female dress forms since our funder, Alexis LAVIGNE, invented the patrern drafting mannequin in 1854!
---